Vessel Conversion: "Leighton Stealth" Simple Barge to Offshore Pipelaying and Accommodation Barge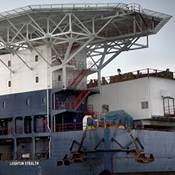 The Offshore Pipelay Barge and Accommodation Vessel "Leighton Stealth" is a specialized vessel designed by GB Marine. GB Marine's scope of work includes the complete design and engineering of the superstructure, piping system design, crane support structures and finite element analysis, intact and damage stability computations for compliance with class requirements.
"Leighton Stealth" has been designed for operation in unrestricted waters. The vessel is equipped with crawler cranes and has been utilized for offshore pipe laying activities all over the world. The vessel also has ample accommodation space, multiple offices, conference  rooms, and workshops which are available for the crew in support of vessel operations.   
 Image Caption:  Offshore Pipelay and Accommodation Barge "Leighton Stealth" designed by GB Marine
Scope of Work:
Calculation:
Inclining Experiment
Mooring Analysis
Stability - Intact and Damage
Strength Analysis for Crane Foundation
Bending Moment Calculations
Mechanical:
Vessel Piping Systems
Bilge
Ballast
Air Vent
Sounding
Pump Room
Lube Oil and Fuel Oil System
Soil and Gray Water Systems
Domestic Fresh Water and Sea Water Systems
Compressed Air Systems
Fire and Deck Wash
Generator
Ventilation Room Exhaust Pipe Arrangements
Sludge
Hydraulic Systems
Deck Scupper
Helideck Drain Systems
Electrical:
Vessel Electrical Systems
Electrical Load Arrangement
Main Single Diagram
Manuals:
SOPEP
MODU Code Operational Manuals